Hi uolss,

This week best kan? Coz cuti 3 hari .. Baru puas weekend .. Hehe .. Ni ieja & hubby still otw ke majlis kawin bff kat Selama, Perak .. Hmm rasanya ieja blum pernah ke sana .. Bile dgr Perak terbayang mcm dekat jer .. Tak sedar yg Selama ni dah dekat ngan Penang ..

Sebelum mulakan perjalanan, sempat lg bposing kan :) hidup mesti ceria ye .. Baru awet muda .. Hehe ..





Gambar solo .. All black today so mata kena ade kaler2 sket .. Klau tak ade mcm ahli sihir nanti .. Ahaks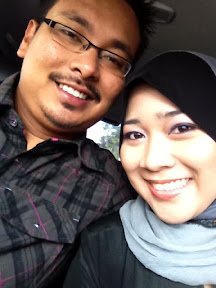 Tak lengkap kan klau tak bergambar bsama hubby tsayang .. Smile!

Now lets continue our journey to Selama .. Kalau uolss kat utara ni sudi nak ajak ieja minum2, sms la ye .. Kecik tapak tangan, ieja tadahkan ngan handbag .. Hehe ..

Have a great weekends to uolss!!
- Posted using BlogPress from my iPad